!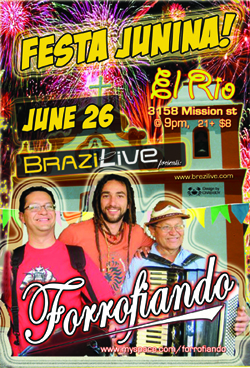 FESTA JUNINA & JULINA
The Portuguese brought the Festa Junina from Europe to Brazil. Like in Brazil, Portugal celebrates June every year, with the difference that in Portugal people give more attention to Saint Anthony than to Saint John.
When the French missions came to Brazil they brought the quadrilha, which is a theatrical dance that tells the story of a marriage in a small town. Due to its origin, even today you still see some French words in the quadrilha lyrics, terms like anavam, anarrié, granche, balancê, travessê, devaiê and tour. And the quadrilha became the official dance of a Festa Junina.
Dress up for the Quadrilha! This traditional dance is a Brazilian form of square dancing that is a major part of the Festa Junina celebrations. Men dress in suspenders to mimic farm hands and women dress up like gap-toothed, pig-tailed farm girls. The dance celebrates Brazilian county music.
Brazil celebrates its Festas Juninas with different foods, but to drink everybody has quentão. This is a hot drink made with cooked ginger in water, sugar, cinnamon, cloves and cachaça (sugar cane liquor). The name quentão literally means the big hot one and reminds us that the infusion warms you up in the chilly nights of June.